Publications
2012 Shamans and Analysts: New Insights on the Wounded Healer. London: Routledge.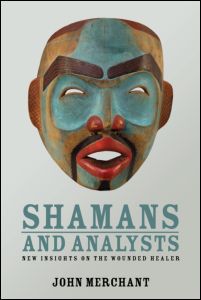 2016a 'The image schema and innate archetypes: theoretical and clinical implications' Journal of Analytical Psychology, 61, 1, 63–78.
2016b 'The use of Skype™ in analysis and training: A research and literature review' Journal of Analytical Psychology, 61, 3, 309-8.
2015 Introduction to 'Forget me not – My journey through Jungian analysis – A case presentation' by Toni Woodward in Psychotherapy and Counselling: Reflections on Practice (Oxford University Press)
2015 'Foetal trauma, body memory and early infant communication: a case illustration' Journal of Analytical Psychology, 60, 5, 601–617.
2011    'Jung and the shamanic wounded healer: implications for psychotherapists'
World Congress for Psychotherapy (Sydney, Australia) http://www.psychevisual.com/John_Merchant.html
2010 'Response to Erik Goodwyn's "Approaching archetypes: reconsidering innateness"' Journal of Analytical Psychology, 55, 4, 534-542.
2009 'A Reappraisal of Classical Archetype Theory and its Implications for Theory and Practice' Journal of Analytical Psychology, 54(3), 339-358.
2008 'The essence of Jungian analysis and the challenges and benefits of it in this changing world: The uses of psychic infection'. CAPA Quarterly, 4, 36-37.
2006a 'Jung's shaman' Australian Broadcasting Corporatin, The Ark. Interview with Rachael Kohn, February 5:
http:// www.abc.net.au/rn/ark/stories/2006/1558993.htm
2006b 'The developmental/emergent model of archetype, its implications and its application to shamanism' Journal of Analytical Psychology, 51(1), 127-146.
Conference Papers
2016 'When erotic feelings emerge in the journey: problems and possibilities'

CAPA (NSW) 40th Anniversary Conference (Sydney)

2015    'The use of Skype in analysis, supervision and training: A research review'

3rd European Conference on Analytical Psychology (Trieste, Italy)

2015   'The image schema and innate archetypes: theoretical and clinical implications'

Journal of Analytical Psychology (London, UK)

2014    'The erotic countertransference – an aspect of relationally attuned identification or conduit to the infantile/erotic? A case illustration'

Journal of Analytical Psychology (Berlin, Germany)

2013    'Jung and the Wounded Healer Origin: an Update'

International Association of Analytical Psychology (Copenhagen, Denmark)

2013    'Abortion trauma and foetal body memory: a case presentation'

Journal of Analytical Psychology (Boston, USA)

2012    'The analyst as shamanic wounded healer'

2nd European Conference on Analytical Psychology (St Petersburg, Russia)